Gen'l,
In this devblog we have a very special guest writer. So far we have not shown the game to outsiders of the development team, except in the official updates like these dev blogs. But when a renown strategy game designer Philippe Thibaut asks to have a look at the game… Well, you show the game! You may know Philippe as the author and designer of the original board-game and PC-title Europe Universalis, or the founder and lead designer of AGEOD, including titles like Birth of America, Civil War, and the gigantic Civil War II, the most comprehensive strategy game of the American Civil War to date!
So, let Philippe himself describe his first impressions after having a look at Grand Tactician: The Civil War (1861-1865) alpha-version, the campaign and battle game-play, behind the scenes.
– Ilja Varha, Designer, The Grand Tactician -Team.

Meylan, France, May 12, 2020, 9 p.m.
Tonight, I was very lucky and had the honor to have a personal presentation of the brand-new game Grand Tactician: The Civil War (1861-1865) directly by its lead designer and author Ilja Varha.
First impression? Well, I am missing words…may be "Woahh…!!" is looking most appropriate.
I have been in video games for the last 22 years, worked on Europa Universalis and all the AGEOD titles, and many more other games, like the one I am doing now with my new venture Avalon Digital. I have played many monster games, including the Total War saga… but I must say that I am baffled!
This is, in my opinion and based on what I just saw, probably the best grand strategy game I have seen so far.
It has everything you can desire and dream of in such a venture. The level of details and the clarity and precision of the content is stunning. I thought we had done a lot in AGEOD's American Civil War, but these guys did better… the content is impressive. No wonder it took so much time to design and produce, this is a treasure chest for any Civil War historian.
But even better, the game is exactly what a grand strategy game should be: you are not controlling everything, far from it, but you find yourself playing with two main levels of personification.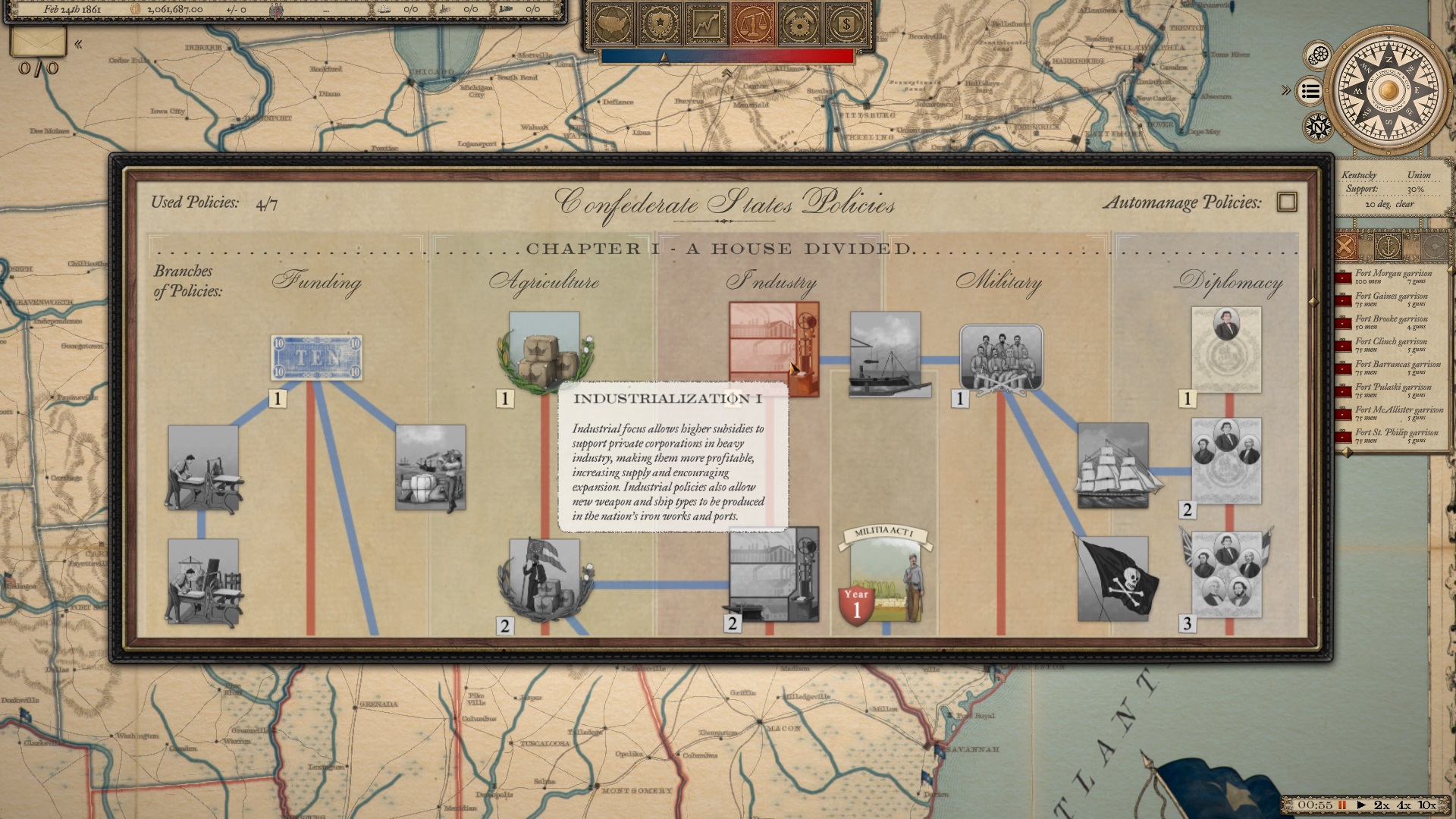 Player can steer his nation via different policies and Acts, like introducing conscription or, like here, investing in industrialization.
First, at the grand strategic level, you are a key member of your nation's War Cabinet. You intervene on a lot of fields, from domestic politics and trade acts to foreign diplomacy or industrial conduct of the war effort. You are immersed in the huge task of creating your army from scratch (I saw the early 1862 Union side). And you also decide where to conscript, which units to raise, which commanders to appoint – The game has an encyclopedic list of over 1,300 commanders to assign to the various commands, both on land and at sea.
Fortunately, for the non-micromanagement fans (like me), a lot can be delegated to the AI (like running the economy) and that's better like this. Speaking of economy, remember we are in the land of free enterprise, so the show is run by private businesses and it's both realistic and ideal (no burden of choosing which little stupid building to build here or there)…
Second, you also get in command on the operational and semi-tactical levels: you have a wide range of realistic options and orders at your disposal as the Army's High Command, and you shall have to decide on many issues and choices such as training troops, choosing deployments postures or trans-theater transfers. Preparing to battle is almost as important (if not more) as running the fight itself. Knowing (well, actually learning, like most commanders of the time) how to dispose and disperse your corps and divisions, how to make sure they can march to the sound of guns in good order, how to dispatch your orders so that they can be reached – and executed – in time, etc… the list is as long as a real Civil War general agenda… all beautifully displayed in a great art style.
And last, but not least, even for a grand-strategy only amateur like me, the part where you jump into the fray, finding yourself on the battlefield is even better thought. You enjoy – if I could say so – the torment of General Meade trying to guess where the Rebs are on this day of July 1863, and more generally trying to sort out reports in the midst of a very well rendered fog of war, weather constraints, fatigue and disorganization… you really feel you are there, and it is almost disturbingly real.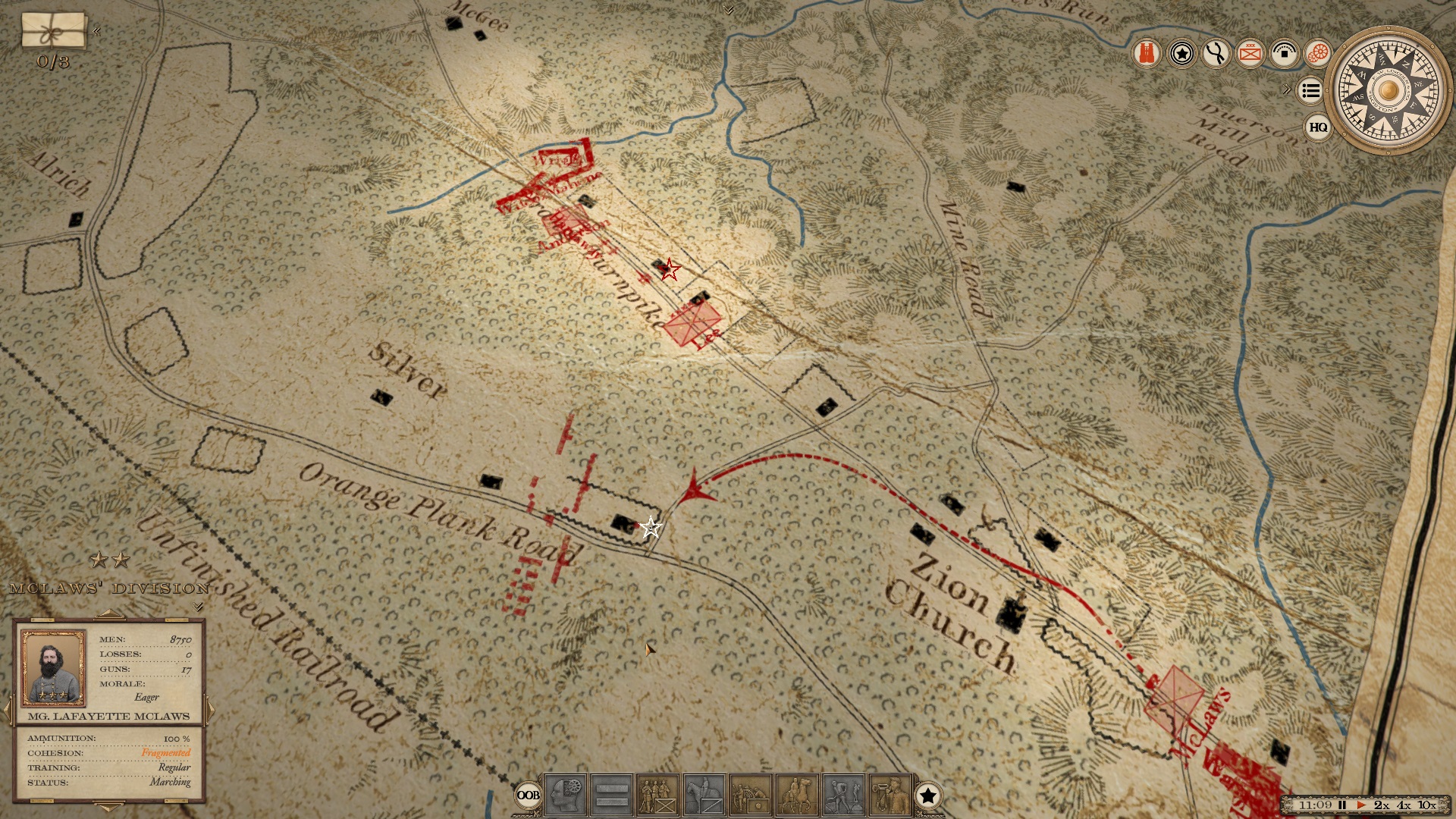 We also took a staff ride around one of the historic battles.
We spent 3 hours on this game, I had the impression it lasted 10 minutes so big was my astonishment and marvel at such a vast game. I would even dare say a masterpiece.
I even wonder if I should take the risk of playing that game… it would capture my mind and soul and I could not leave it. I wish I had the means, knowledge and tools to have done something like that before (but my game was 13 years ago, an eternity…)
Bravo guys, keep up the good work, you just did immensely great and I expect a huge success for your game.
Chapeau Bas Messieurs!
Philippe Thibaut
CEO, Avalon Digital,
Head of Development and Lead Designer, SGS,
AGEOD : Founder and lead designer,
Europa Universalis: Game Author and Designer, &c.